Mr. Goodman has gained extensive experience in the Goodman Law Center's main practice areas.  Here is a sampling of the firm's experience.
Patent / Trademark Law
Drafting and prosecuting several United States patent applications including  issued patents.

Completed several patent searches and patentability opinions, and infringement analysis.

Acquired United States Federal Trademark Registrations for many clients.

Member of negotiation team on several intellectual property license negotiations and dispute resolutions.
Debt Relief  /Bankruptcy  Law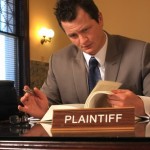 Saved several client's homes through successful negotiation of Loan Modifications
Represented numerous debtors in Chapter 7 case through discharge
Represented several clients through the Nevada Foreclosure Mediation Program
Represented several clients in litigating wrongful foreclosure matters
Representing several clients in "Adversary Proceedings", which is a lawsuit within the bankruptcy case
Family Law
Represented many clients through Divorce
Custody Disputes
Completed a guardianship
Name change petition
Probates
General / Business Law
Coordinated the due diligence required for a prospective acquisition or partnership, Managing employees and outside counsel and reporting directly to the Chief Executive Officer.
Formed a Nevada non-profit corporation and completed an application for tax-exempt status for this entity.
Negotiated several dental practice sales
Analyzed and litigated numerous contracts
Negotiated professional employee contracts and independent contractor agreements